Catering
Cornwall has seen an incredible gastronomic community grow in recent years, with many Michelin starred chefs choosing the region for their flagship eateries.
If you want to work in a fast-paced, action-packed and creative industry then look no further than a career in catering. The opportunities for career progression in this industry are some of the best. From commis chef to sous chef, all the way up to head chef, if you are willing to put in the hard work you could be running your own kitchen in a few years' time.
Watch the presentations here
Take a look around our facilities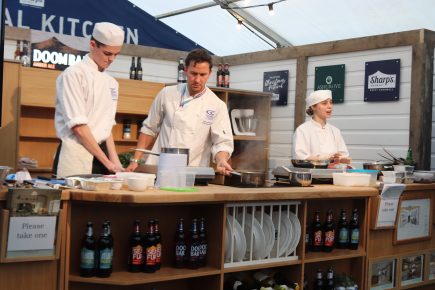 Follow us on Facebook
CHEF STUDENTS RISE TO OCCASION ON FESTIVAL STAGE
Some of the county's top trainee chefs have been praised for their efforts in helping at one of the region's most popular food extravaganzas. The Padstow Christmas Festival has grown dramatically over the past 11 years and attracts thousands of visitors and some of the best chefs and food experts in the country.
Trainee Chefs from Cornwall College St Austell, were once again on stage assisting the popular food demos at the annual Padstow Christmas Festival. Chef Lecturer Steve Rudd organised the opportunity and explained how this festival was the best one yet. "We supported the festival for several years and the students did such a great job they asked us back again this year, only this year we were asked if we would do demonstrations on the festival stage so the students cooked while I compered," he said.
Level 3 Professional Cookery student at Cornwall College St Austell, Sikira Blight Bevan, said it was "nerve wracking but an amazing experience" being on stage at the festival. "I have been at college for four years and if it wasn't for the fantastic lecturers I would not have got to where I am today." "The contacts we make in industry whilst on the course is invaluable. For the last two years I have undertaken work experience with Paul Ainsworth at Number 6 and The Mariners and that all came about from making contact with him at Padstow Food Festival."
Fellow Level 3 Professional Cookery student at Cornwall College St Austell, Lewis Wallace, said he was "incredible excited to have this opportunity". "The course is brilliant, this is definitely the industry I want to be in in the future. What I'm learning just keeps getting better and better," he added.
Steve explained how this year the College has "the largest ever cohort of learners in professional cookery and they are all a great bunch who are determined, disciplined and hard working." "For some they have been with us straight from leaving school last June to today assisting world renowned chefs – what a story that is!" "To see Sikira support chefs here two years ago to today creating her own professional demonstration is a proud moment for her, her family and our college."
"Lewis again supported chefs last year and then this year has cooked his own dishes within the festival chefs theatre, these students are going to go onto really successful careers."
Ready to apply for a course? Complete this form and we will do the rest.