Hair, Beauty and Barbering
Hair, Beauty and Barbering
Whether it's creating the latest look for a celebrity or designing a hair and make-up collection for a catwalk show, working in hair and beauty offers variety and an outlet for creativity, beyond simply working in a salon or spa. Film and theatrical make-up also provide unique career opportunities for artists who love to work with people.
Depending on which area of the industry you would like to have a career in we offer a wide range of courses to choose from; Hairdressing, barbering, beauty therapy, make up artistry, nail technology, body & spa therapies, reflexology, aromatherapy & sports massage.
Follow us on Facebook
Watch the presentations here
Take a look around our facilities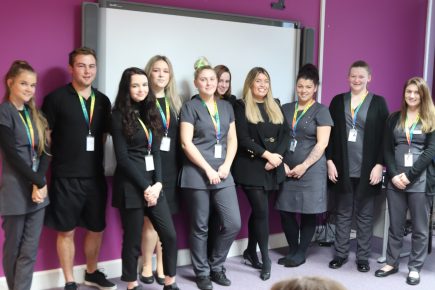 STUDENTS ONBOARD WITH FUTURE
BEAUTY CAREERS AT SEA
An adventurous life and career on the high seas was the focus for hair and beauty students as they learned about working on some of the world's most luxurious cruise liners. Cornwall College St Austell students enjoyed an enthusiastic talk from Steiner's Recruitment Manager, Nicci Renshaw, who spoke to them about their options for employment on Steiner's ships. Steiner works with 16 Cruise Providers all over the world and some of the biggest ships can hold 8,000 guests and 3,000 employees.
Nicci explained about the fantastic opportunities that are available for students once they've qualified. "It's about getting them to think outside the box, being able to travel the world, doing what you love, meeting great people and earning really good money – why would they not want to explore this career move straight from college?" she said. "Once they've worked for a top company like Steiner and they have it on their CV it also really helps them get a good job when they are finished traveling the world."
If students are successful in their applications, they could be flown anywhere in the world such as Alaska, China, the Mediterranean or the Caribbean.
Level 2 Make Up Artistry student at Cornwall College St Austell, Maya Clarke, said she found the presentation incredibly "inspiring". "I hadn't considered working on a cruise liner as an option at all, now I feel I have a lot more career options for when I complete my course."
Level 3 Beauty & Spa student at Cornwall College St Austell, Casey Coyte, said learning about Steiner was "really enlightening". "It is a career route I feel I am really going to consider going forward."
Team Lead for Hair and Beauty, Fran Clapham, said how delighted she was to welcome a company like Steiner to the College. "A good qualification in hair and beauty can lead you to anywhere in the world, events like this for students help to develop their employability skills and will raise their aspirations," she explained. "We are always looking to broaden the horizons of our students; these are a talented group and opportunities like this are great at getting them to think differently about their future careers."
Ready to apply for a course? Complete this form and we will do the rest.